Table of Contents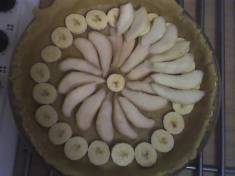 Apfelhefekuchen
Zutaten Hefeteig Apfelkuchen
375 g Mehl
25 g frische Hefe oder 1 Päckchen Trockenhefe
75 g Zucker
1 Prise Salz
1 Päckchen Vanillezucker
etwas abgeriebene Zitronenschale
1/8 l lauwarme Milch
100 g Butter zimmerwarm
1 Ei

Rezept Zubereitung Hefeteig für altdeutschen Apfelkuchen
1. Mehl, Zucker, Salz, weiche Butter, lauwarme Milch, Eier in eine Rührschüssel geben
2. Frische Hefe darüber bröseln oder Trockenhefe nach Anweisung verwenden.
3. Mit elektrischem Knethaken langsam rühren bis Mehl nicht mehr staubt.
4. Auf höchster Schaltstufe weiterkneten, bis sich der Teig vom Schüsselrand löst. Knetdauer ca. 5 -6 Minuten.
5. Teig mit einem Tuch abdecken und gehen lassen. Der Teig sollte sichtbar aufgehen und elastisch sein.
6. Teig in den Backofen auf den Rost stellen. den Backofen auf 50 Grad Temperatur stellen, nach 5 Minuten ausschalten.
7. Ca. 20 bis 30 Minuten im Backofen gehen lassen.
8. Den aufgegangenen Hefeteig auf einem gefetteten Backblech ausrollen.
9. Belegt noch mal 30 Minuten gehen lassen.

Zutaten für den Belag altdeutscher Apfelkuchen
1 bis 1,5 kg Äpfel
75 g gehackte Mandeln
50 g Rosinen, gewaschen
50 g Zucker
1 Teelöffel Zimt
3 Esslöffel Zitronensaft

Rezept Zubereitung Belag altdeutscher Apfelkuchen
1. Äpfel schälen, vierteln, Kerngehäuse ausschneiden
2. Die Apfelspalten dicht auf den ausgerollten Hefeteig legen.
3 .Gehackte Mandeln, Rosinen, Zucker und Zimt vermischen und über die Äpfel verteilen.
4. Mit Zitronensaft beträufeln.
5. Nach Belieben mit Streuseln belegen.
6. Kuchen noch mal 20 Minuten ruhen lassen. Danach 7. Im auf 180 – 200 Grad vor geheizten Backofen 40 – 50 Minuten backen.

Rezept Streusel
400 g Mehl
200 g Zucker
1 Päckchen Vanillezucker
1 Prise Salz
etwas Zimt
250 g Butter

Alle Zutaten in eine Schüssel geben.
Schnell mit einem Wender oder Knethaken zu einer verkrümelten Masse verarbeiten. Auf den Kuchen geben. Wichtig bei Apfelkuchen, Backofen immer vor dem Einschieben des Back-Bleches auf die angegebene Gradzahl hoch heizen.
Gugelhupf
Mix
250g butter
4 eggs
250 g sugar
1 sachet vanilla sugar

Then add
125 g quark
a little lemon juice
vanilla flavour
375 g flour and
1/2 sachet baking powder

Fill into a Gugelhupf baking pan and bake for an hour at 175°C.
Apfelstreusel
Mix
300 g flour
100 g butter
100 g sugar
1 teaspoon baking powder
1 sachet vanilla sugar
and form a dough. Leave it to rest for about 30 min. Then put it into a cake pan for the bottom part.

Peel
1-1,5 kg apples (sour)
and heat in a pot with
a bit of butter
50 g raisins
a bi sugar
until soft.

Prepare pudding from
1 sachet vanilla pudding powder
and pour it on the layer of dough.

Put the soft apple mixture on top.

For the Streusel, knead
150 g flour
100 g butter
100 g sugar
until you have a dough. Then, over the cake, rub the dough between your flat hands so that you get the typical uneven surface (Streusel).
Bake for 45 -60 min at 160 C
Guten Appetit!
Chocolate Muffins
Mix
2 eggs
1 cup or 200 g sugar
1 cup or 130 g flour
2 teaspoons baking powder
1 teaspoon vanilla flavour
2/3 cup or 160 ml milk

Then melt
2/3 cup or 160 g butter
100-200g chocolate
and carefully fold in. Fill into muffin tins and bake for about 30 min at 180°C.
Peach Lassi
Make the peach puree from
3 peaches
2 tablespoons lime juice
2 teaspoons lime peel, finely grated
1 tablespoon sugar
1 pinch turmeric

Blend all the ingredients. Fill in glasses and cool.
Make the lassi shortly before you eat:
1 cup yogurt
1/2 cup mineral water
1 tablespoon sugar
4 sprigs lemon balm
1 pinch cayenne pepper or chilli

Blend all the ingredients until foamy. Then pour on top of the puree without mixing.
If you like, decorate with peach wedges and lemon balm.



Lemon Balm Yogurt Cake
1 1/2 cups flour
2 teaspoons baking powder
1/2 teaspoon salt
1 cup yogurt
1 1/3 cups sugar, divided
3 eggs
heap of lemon balm, chopped up, the more the better
1/2 teaspoon vanilla flavour
1/2 cup vegetable or olive oil
1/3 cup lemon juice

For the glaze (optional):
1 cup icing sugar
2 tablespoons lemon juice

Preheat the oven to 175°C. Line the bottom of a cake tin with parchment paper.

Mix one cup sugar, the eggs, lemon juice, and vanilla. Sift together flour, baking powder and salt. Slowly whisk the dry ingredients into the wet ingredients. In the end, add the oil and the chopped lemon balm. Taste the batter - with olive oil you might need a bit more vanilla, lemon juice and sugar.
Pour the batter into the tin and bake for 50-60 minutes, or until a fork comes out clean.
When the cake is done, cook the 1/3 cup lemon juice and remaining 1/3 cup sugar in a small pan until the sugar dissolves and the mixture is clear. Pour the lemon-sugar mixture over the cake and allow it to soak in. Cool.

You can now make a glaze with icing sugar and lemon juice and pour over the cake. You could also just put icing sugar on the top.
Decorate with small lemon balm leaves that you have set aside and enjoy this light tart!
Pineapple Cake
Blend
200 g butter
160 g sugar
until foamy. Then trickle in
4 eggs
240 g flour
1/2 German sachet/2 teaspoons baking powder
1 sachet vanilla sugar /if you don't have that, mix 2 teaspoons of sugar with vanilla flavour

For the topping you need:
2 tins of pineapple, in rings or pieces

Now bake at 175°C for 30-50 min, depending on how thick your dough is (on a baking tray it takes shorter, in a cake tin it'll take longer).

For the icing you need
1/2l pineapple juice (the one from the tins)
1 sachet vanilla pudding powder

Make the pudding with the juice instead of the milk and pour over the cake. Let cool before enjoying.


Sandra's Brownies
2 cups of cocoa (the one for baking)
2 cups of flour
2 cups of sugar
8 eggs (first only egg yolks, whip egg whites until very foamy)
200g hazelnuts (whole nuts), alternatively raisins
500g butter

first whip butter, egg yolks, sugar
then mix flour, then cocoa
at last whipped egg whites
bake at 175 C for 30 minutes


Sandra Lork
Ana's chocolate cake
Mix
5 egg yolks
100g sugar
until foamy.
Mix the
5 egg whites
until stiff. Then carefully (!) mix egg whites and yolks.

Mix
60g flour
40g ground almonds
1/2 tsp baking powder
20g cocoa powder
Put this mixture through a sieve into the egg mixture.
Bake for 10 min and roll the dough immediately.

Mix
2 pots whipping cream
100g chocolate
by boiling the cream and melting the chocolate into it.
Unroll the cold dough and fill in the chocolate cream. Roll again.
Leave in the fridge until cold and trickle
cherry liquor
water
over it.


Ana Barazal Barreira
Damiana's carrot cake
Ingredients:
–> for the cake
450 g sugar (caster or granulated)

250 ml vegetable oil (sunflower)

225 g carrots, finely grated

225 g plain flour

1 1/2 tsp bicarbonate of soda

1 1/2 tsp baking powder

1 tsp ground cinnamon
–> for the icing
140 g icing sugar

140 g cream cheese (at room temperature)

55 g butter (at room temperature)

2 tsp vanilla essence

Preheat a 180°C oven. Butter a round cake tin or a ring mould.
Combine sugar, oil, eggs and carrots. Beat for 2 minutes.

Sift the dry ingredients into another bowl. Add in 4 equal batches to the carrot mixture, mixing well after each addition.

Pour the cake mixture in the prepared tin. Bake until a skewer inserted in the center of the cake comes out clean, 40 minutes (but better check after 35 minutes

…).

Prepare the icing combining all the ingredients in a bowl and beat until smooth.

Wait until the cake is cool, then unmould the cake from the tin and spread the icing all over the top and sides of the cake.
Damiana
Brownies (US)
Ingredients
200g chocolate
4 eggs
340g sugar
13 tablespoons oil
175g flour
1/2 teaspoon salt
1 tablespoon baking powder
1 tablespoon vanilla powder

Beat the eggs, slowly letting the sugar trickle in until thick and creamy.
Melt the chocolate and add as well as the oil.
Mix flour, salt, baking powder and vanilla powder separately and then add to the egg mixture carefully.
Grease an oven-proof form and fill in the mixture up the ~3cm.
Bake for 20-25 min at 180°.


OR
200g chocolate
3 eggs
150g sugar
120ml oil
80g flour
1/2 teaspoon salt
1 tablespoon baking powder

===== Sunday Soccer Waffeln ===== Ingredients
200g Butter, soft
50g sugar
a little salt

Mix well and gradually add

5 egg yolks
200g flour
1/2 teaspoon baking powder
1/8l milk

After mixing everything, beat the egg white and fold in carfully.
The best way to bake the waffles would be in a waffle iron.


Nicole Winkler ===== Gedeckter Apfelkuchen - apple cake (Germany) ===== Dough
300g flour
200g sugar
150g butter
1 egg
a little salt

Mix all ingredients and leave covered in the fridge for 2 hours.
Prehpeat the oven to 200°C.
Lay out 2/3 of the dough in the form and bake for 15 min.

Filling
750g apples
juice of 1 lemon
1/2 teaspoons cinnamon
50g raisins and almonds

Peal the apples, chop in quarters, cut out the core and steam with other ingredients and a little water for 10 min.
Fill into the form, roll out the rest of the dough and cover the apples with it.
Bake for 30 min and leave outside to cool.

Icing
4 teaspoons icing sugar
a little Schnaps


Kirsten und Jens ===== Franzi's Bratäpfel - roast apples (Germany) ===== Ingredients
2 tablespoons raisins
apple juice
8 apples
2 tablespoons lemon juice
2 tablespoons butter
50g almond slivers
1-2 tablespoons honey
1/4 teaspoon cinnamon

Take out the apple cores and trickle the lemon juice into the apples.
Grease a form for the oven.
Chop the almond slivers, mix with honey, raisins, rest of the butter and cinnamon.
Fill the apples and roast for 20 min.
Serve with vanilla sauce or -ice cream.
Guten Appetit!


Franziska Heym ===== Streuseltraum - quark cake (Germany) ===== Dough
250g flour
125g sugar
35-50g cocoa powder
2/3 sachet (German) or 1-2 teaspoons other baking powder
1 egg
125g butter

Mix all ingredients until you have fluffy streusels (not too small). Put half of them in a greased spring form.

Filling
125g butter, very soft
125g sugar
3 eggs
1 sachet vanilla sugar
1 sachet pudding powder vanilla
1 tablespoon lemon juice
750g quark

Pour the filling in the form and put the rest of the crumbles on top.
Bake for 45ish min at 180-200°C.
Guten Appetit!


Anneke Richter, Leonie Koenen, Franziska Heym ===== Irish Coffee ===== Prep: 5 min.

Ingredients
1/2 cup hot strong coffee
1 tablespoon Irish whiskey
2 teaspoons sugar
Whipped cream
Ground cinnamon or nutmeg**

In a coffee cup or mug stir together hot coffee and Irish whiskey.
Stir in sugar. Top with a dollop of whipped cream.
Sprinkle with cinnamon or nutmeg. Makes 1 (6-ounce) serving.


David O'Brien