Table of Contents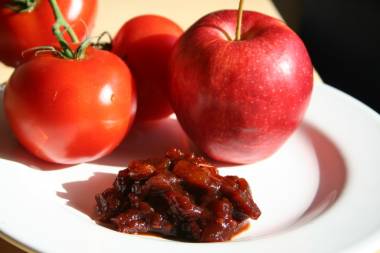 Orange Marmalade
Green Pesto
1/2 cup pine nuts
1/2 to 1 cup olive oil
1/2 parmesan cheese
1 clove garlic
4 cups basil leaves
salt

Roast the pine nuts and put them in a food blender while still warm. Add the garlic, cheese, basil, salt and olive oil. Blend the pesto and add olive oil depending on your taste.

Sauce Hollandaise
Put
2 egg yolks
1 tablespoon lemon juice
1 tablespoon water
salt
pepper
into a sauce pan and beat until blended. Then heat slowly on very low heat, whisking constantly.
In pieces, add
170g butter
and melt - still whisking, of course - until the sauce has the desired thickness.

If you like, you can now add some
parsley, chopped up

Serve with potatoes and asparagus.
Kräutercreme (herb paste)
Roast
50g almonds, flaked
until browned and ground them.

Put into a blender and add
8 teaspoons olive oil
garlic
sage
thyme
parsley
oregano
basil
You need about a handful of each of the herbs.
Blend the paste until smooth, adding water if it is too dry.

Season with
salt
pepper
lemon juice

Tomato and Apple Chutney (UK/India)
Ingredients
800g (2 cans) whole plum tomatoes
4 sour Braeburn apples, peeled, cored and cut into small dice
170ml white wine vinegar
3 large garlic cloves, peeled and crushed
2 teaspoons ground ginger
2 teaspoons salt
340g dark brown sugar
1 teaspoon cayenne pepper
1/2 fresh red chili
5 tablespoons sultanas

Put the can of tomatoes (break the tomatoes up with your fingers), apples, vinegar, garlic, ginger, salt, sugar and cayenne pepper into a large pot. Stir, then bring to boil and cook on a medium-high heat for about 1 hour. Don't forget to stir now and then. Add the chillis and later the sultanas. Cook gently for further 5 minutes, until the chutney is thick (it will thicken more when cooling).
Let the chutney cool completely before you fill it into jars and refrigerate it.


David O'Brien and Anneke Richter
Fresh Tomato Chutney (South Africa)
Ingredients
2-3 medium tomatoes
1 clove garlic
1cm piece ginger
3 fresh, hot bird's eye chili or any hot chili stuff
3/4 teaspoon salt
1 tablespoon lemon juice
1/2 teaspoon ground cumin
2-3 teaspoons brown sugar (white will do as well)

Put everthing into a blender and blend until very smooth - easier is impossible


This goes really well with a curry dish or as a dip with tortilla chips or naan bread.


Anneke Richter
Fresh Mint Chutney (India)
Ingredients
Bunch of fresh mint, at least 50g just leaves
1 tomato
1-2 fresh green chillis
4 cloves garlic
1 teaspoon lemon juice
1/8 teaspoon salt

Put the tomato in the blender first and blend to a paste. Add the mint leaves with the water clinging to them after washing and all the other ingredients. Blend to a paste and store in the refrigerator.


David O'Brien
Plum Chutney
400 grammes plums
1 onions, chopped finely
2 chilis, chopped finely
1 piece of ginger, choppped or grated
1 stick of lemongrass
100 grammes brown sugar
200 ml apple juice (or more)
1 tblsp sea salt
3 tblsp balsamico vinegar
a handful of raisins

Boil everything for at least 30 min or until the chutney thickens.
Mustard-Dill-Sauce
Mix
1 tblsp mustard
1 tblsp sugar/honey
Slowly trickle in (while whisking)
oil
Add
dill, chopped
Yoghurt Salad Sauce
Mix
1 tsp honey
2 tblsp apple vinegar
1/2 horseradish
a squeeze of lemon juice
mixed salad herbs
2 tblsp yoghurt
2 tblsp sunflower oil

This sauce goes nicely with a green salad!