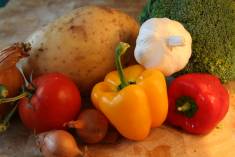 Salad Dressing
Olive oil
White balsamico
Apple juice
Wholegrain Dijon mustard
Herb, onion, celery, saly, pepper mix from mill
taboulli
Baba ghanoush
Cheese Fondue
Suggate Recipe
Emmentaler  400g
Gruyere 150g
Tilsiter 300g
2.25 Cups Grape Juice / White wine
1 clove garlic
0,25 Cup Cider vinager
3 Table spoons Floor
Grate all cheese. Cut garlic in 2 and rub arouund inside of pot. Chop up and put in pan along with Grape Juice /wine - heat up. Then add cheese and allow to melt. Add flour to vinager mix and slowly add to cheese while continuosly mixing.
Baguette, boiled potatoes, couliflower, mushrooms, pickles, … as dip.
Coriander yoghurt
200g plain low-fat yoghurt
3/4 cup chopped fresh coriander leaves
2 tablespoons lemon juice
1 garlic clove, 
Curry Sauce For Chips
Recipe from IrishAmericanMom.com
Serves 	4
Prep time 	15 minutes
Cook time 	30 minutes
Total time 	45 minutes
Region 	British
Ingredients
  1 large onion (peeled and diced)
  1 large apple (peeled and diced)
  1 teaspoon minced garlic
  1 teaspoon minced ginger
  2 tablespoons curry powder
  1 teaspoon turmeric
  1 teaspoon ground cumin
  1 teaspoon ground coriander seeds
  1 teaspoon ground cinnamon
  3 tablespoons canola or vegetable oil
  2 tablespoons all-purpose flour
  2 cups chicken stock
  1 teaspoon worcestershire sauce
  2 teaspoons sugar
  1 tablespoon tomato puree
  salt and pepper (to taste)
  1/4 cup golden raisins (optional)
Directions
Prepare the spice blend by mixing the curry powder, turmeric, cumin, ground coriander seeds and cinnamon in a small bowl.

Heat the oil in a large skillet. Add the onion and saute for 4 minutes over medium heat..

Add the diced apple and cook for another 2 minutes.

Add the minced ginger and garlic and stir.

Add the spice blend to the onion mixture and stir constantly as it cooks for 2 more minutes.

Add the flour and stir constantly as it cooks for 2 minutes. Scrape the bottom of the pan to prevent burning.

Gradually add the chicken stock, stirring constantly to prevent lumps from forming.

Add worcestershire sauce, sugar, tomato puree and stir. Season with salt and pepper.

Bring the sauce to boiling point, stirring constantly. Then reduce the heat to low and simmer the sauce for 15 minutes.

Turn the heat off, and allow the sauce to cool slightly before blending. When cool enough add the sauce to a blender or food processor and blitz until smooth.

Return the sauce to the pan over medium heat. Add golden raisins if desired.

Serve hot with a side of chips or french fries.
Chips
Directions
Peel the potatoes. Halve each potato lengthwise, then quarter it lengthwise. Cut each quarter in half lengthwise, then each eighth size piece in half again. Each potato should yield 16 long chips.

Add the sliced potatoes into a large saucepan and cover the chips with water. Season with salt. Bring the water to a boil, then reduce the heat and simmer for just 4 minutes.

Drain the chips into a colander and just let them sit there for 5 to 10 minutes to steam dry.

Pour the oil into a large dutch oven or deep frying pan, bringing the level to a little under half full. Heat the oil to 375 degrees Fahrenheit.

Lower some of the parboiled chips into the hot oil. Don't put too many chips into the pan at once or they will stick together. Cook in 2 to 3 separate batches.

Cook them for 8 to 10 minutes until they are just turning golden.

Carefully remove them from the oil with a metal strainer, and place them on a plate covered with a paper towel to soak up any excess grease.

Serve hot with burgers, chicken or beer battered fish and mushy peas.
Potato and Carrot Soup
Dice 1 onion
4 big potatoes
6-8 carrots
Fry the onion in butter with
1 chopped garlic clove, add the potatoes and later the carrots, fry a little.
Add
vegetable broth, about 1 tsp with 3 cups of water
bay leaves
and boil until tender.
Blend, leaving some veggies whole (if you like), and season with
pepper
lemon juice
sugar
apple juice
1 tsp coconut milk/cream/cream cheese
Pickled Cucumber and Carrot Salad
Whisk in a bowl:
a good squeeze of lemon juice
1 1tbsp chopped fresh dill
1 tbsp liquid honey
1 tbsp cider vinegar
1 tbsp extra virgin olive oil
1/2 tsp sweet chili sauce
1/4 tsp salt
Add
1/2 cucumber, julienned or in thin peels
1/2 carrot, julienned or in thin peels
Best if chilled for a few hours.

Goes very well with salmon fillet, lightly seasoned with salt, pepper, dill and olive oil, then fried a bit and heated in the oven (put in with your roast veggies for the last few minutes).
Orange Salad Dressing
Mix in the following order:
200ml orange juice
1 tbsp mixed herbs
2 tsp mustard
salt
pepper
a bit of sugar
a squeeze lemon juice
2-3 tbsp white balsamico vinegar
3-4 tbsp peanut oil

Spicy Lentil Soup
1 tsp cardamom seeds
1/2 tsp cumin seeds
1/2 tsp cinnamon
1 onion
200 g lentils
1 tblsp tomato concentrate
1/2 tin whole tomatoes
800 ml vegetable broth
1/2 tin coconut milk
1 garlic clove
5-cm-piece of ginger a squeeze of lemon juice
salt
freshly ground black pepper
cayenne pepper

Chop the onion finely and steam in a big pot with a little olive oil, with the lid closed, until translucent. Then add half the lentils (100g), the tomato concentrate and, after a while, the whole tomatoes and the broth. Leave on low heat, just about boiling, for 15-20 minutes.
At the same time, cover the rest of the lentils (100g) with water in a small pot and boil also for 15-20 min.
Roast the cardamom and cumin seeds in a hot pan without oil until they start smelling. Heat the cinnamon just for a moment. Let them cool and grind to a powder. Add to the soup.
Add the lemon juice, ginger and garlic (only coarsely chopped) and puree the soup with a mixer.
Then, put in the coconut milk, the drained lentils and add pepper and salt to taste.
Zucchini Gratin (Kousa bi Gebna)
1 onion, chooped
2 large zucchinis, cut into long slices
1 tsp mint
1 egg
a handful of grated cheese (best is a sharp one)
milk
salt
pepper

Fry the onion until golden, then add the zucchini slices, salt, pepper and mint. After a minute, put everthing into an ovenproof dish.
In a bowl, mix egg, cheese and milk. Pour the mixture over the vegetables and bake at 175C for about 20-30 minutes.
Cauliflower and Potato Gratin
potatoes
cauliflower
200 ml cream
a little milk
150 ml veggie stock
thyme
salt
pepper
2 cloves of garlic

Put the chopped up cauliflowers and the thinly sliced potatoes in an oven tin. Mix the sauce ingredients and pour over the vegetables. Bake at 180C for about 60 min. Cover with tin foil for the first 45 min, then add a bit of cheese to the top.
Schwammerl with Knödel
freshly picked mushrooms
onions
parsley
vinegar
salt
pepper
\\ Cut the mushrooms into thin slices. Braise onions and parsley lightly with butter, then add the mushrooms and some water. Cook it about 20 min. (the mushrooms have to be well done to be edible) till you´ve got a thick sauce, season it with salt, pepper and vinegar. Serve it with bread dumplings.

Babsie, looking forward to the next schwammerl season
Antipasti
Red and yellow peppers
courgette
tomatoes
onions, red or shallots
olive oil
parsley
basil

Grill the whole peppers in the oven until they are black on the outside. Leave them in a pan to cool down and to catch the juices.
Chop the courgette in spears and half the onions or leave whole. Grill on high heat as well, add the halved tomatoes later.
When everything has cooled down, peel the peppers, arrange on a plate and season with salt and pepper. Sprinkle generously with olive oil, chopped up basil and parsley, and the juices you caught earlier.
Enjoy!

Spargel - Asparagus
Peel your asparagus as lightly as possible, then boil in salty water for about 10 minutes, with the lid closed. Use a tall pot so that the delicate asparagus heads are not in the water, as they cook much faster. Serve with potatoes, sauce hollandaise and, optionally, rolled up in cooked ham.
Regensburg Ratatouille
Chop up all the vegetables in big pieces so they can retain their consistency through the cooking process. Cover the bottom of a big pot with
olive oil, add
2 onions
5 cloves of garlic
and cook on low heat for a while, then add
2 aubergines
Make sure there is enough oil after the aubergines are coated in it, cook for another while and and in short succession add
herbes de Provence
freshly ground pepper
salt
more basil, parsley, marjoram and rosmary to taste
2 courgette
5 tomatoes
1-3 peppers, red and yellow
Pizza (Italy)
1/2 kg flour
12.5g fresh (5g dry) yeast
300 ml water, warm
1 spoon oil
1 tsp salt
1/2 tsp sugar
Pour half of the water on the volcano shaped flour and add the yeast and then all the other ingredients.
Knead the dough, then add the remaining water and keep on kneading until you have an elastic dough.
Leave the dough to levitate, covered with cloth.
After levitation (it may have grown considerably), knead again (it will deflate, don't worry). Use some flour on the work top to avoid sticking.
Let levitate for 1h (again with cloth).
You're ready: Scoop the desired amount of dough and give it a round shape (pizze).
Oven (pre-heated) 250 C: try to have an even cooking, you don't want the top burnt and the bottom not cooked.

Andrea di Falco
Potato Salad (Germany)
Boil
6-10 big potatoes
and peel when cold.
Add
4-6 gherkins, chopped in slices
and mix
3 tblsp sunflower oil
2 tblsp rice vinegar
1 tblsp mustard
2 tblsp water from the gherkin pickles glass
2 cloves garlic
salt
pepper
Pour the mixture over the potatoes, leave in the fridge for at least 1-2 hours and in the end add
fresh parsley
fresh chives, at least a handful each

Guten Appetit!
Garlic and Rosemary Cabbage
sweetheart cabbage
garlic
rosemary
salt
pepper

Fry a few cloves of garlic with rosemary in olive or corn oil. Chop the cabbage in big slices, not using the outer leaves and inner hard heart

and put with a little water into a big pot. Close with a lid and leave to steam for 30ish minutes. The flavour is stronger if you fry the cabbage a little at the end.


Anneke Richter, inspired by Jamie
Tomato Salad
3 or more tomatoes
salt

Season the tomatoes with salt, mix well and leave for a while.
Then add a mix of:

2-3 tablespoons olive oil
1-2 tablespoons white wine vinegar
1/2 teaspoon sugar
fresh chives, chopped
a little majoram
salt
pepper


Anneke Richter
Auflauf
Courgette
Red Peppers
Mushrooms
or other vegetables

Fry the vegetables in a pan so that they are almost done.
Put them in a casserole dish and pour over it a mix of:

2-3 eggs
a little milk
a little vegetable stock
a little cream
grated cheese
salt
pepper.

Grate some more cheese and sprinkle on top of your Auflauf.


Anneke Richter
Roast vegetables (Ireland)
Potatoes
Carrots
Parsnips
Sweet potatoes
(Cayenne) pepper
Salt
Paprika
Olive oil

Peel and chop up all vegetables. Sprinkle with oil and season with salt, pepper and paprika. Bake for at least 30 min, until the potatoes are cooked.


David O'Brien
Fried Kimchi and Rice (Korea)
Time: 20min.
Calories: 560kcal
Quantity: 2 persons

Ingredients
3 TS Kimchi
2 Bowls of Rice
1/2 Potato
1/2 Onion
60g Ham
1/4 Leek
Salt, a little bit
Vegetable oil, a little bit
1. Chop Kimchi, potato, onion in 1 cm size.
2. Fry Kimchi and potato first and put ham and onions in to the pan and fry together more.
3. If onion is done, put rice and mix and fry more.
4. After adding a little bit of salt and pepper, put a fried egg on top of it.

Oh Sang Soon
Leek and Potato Soup (Wales)
Ingredients
Equal amount of leek and potato
1 or 2 carrots for taste
Some butter & vegetable stock cube

Cover with water- boil,
Add salt and pepper to taste.


Chris Riordain
Quiches "25 Lawmill Gardens" (France)
Dough
1 egg
250 g of flour
100 g of butter or margarine (I usually go for margarine)
A pinch of salt
A few ml of cold water

Mix everything together: I usually mix with my hands but a mixer could be fine as well… at the end of the mixing process the dough should be such that you don't have any more pieces of butter and flour sticking on your hands… otherwise you can add some more flour and mix a little more until everything is incorporated into the dough… However the more or the longer you work the dough and the harder and drier the dough will become once baked… if too dry it will be hard to cut… - Spread some flower on a table, put your dough at the centre, and use a cylindrical piece of wood to flatten the dough - Spread butter around the round dish (around 25cm to 30 cm as a diameter), spread flour at the top of the butter (for the same reason as for the cake) - Roll the dough around the cylindrical piece of wood you've used to flatten the dough and unroll it above the dish. Press the dough at the bottom & the edges to make sure of the connections and to make sure the dough covers the sides high enough as you're going to pour some kind of liquid stuff inside the dish.
Filling
5 or 6 eggs
? litre of milk
Crème fraîche or whipping cream
100 - 250g rapped cheese, depending upon your preference (I usually go for about 200 g of the same cheese as the one I use to put in pasta or sandwiches, it is sold at Tesco in a kind of transparent plastic film and looks kind of yellow, is solid and has a kind of rectangular or cubic shape… it does not change much the taste of the Quiche but it does influence strongly its structure, in French it would be "Gruyère rape" but let me know in case you don't picture it and I'll find some other explanations… : )
Pork meat, chopped (Ham or turkey cut in pieces would also work… any way the cheese will also provide the salt so that at first sight you don't need to add some more, but it is up to you and your preferences…)
Herbs & spices such as "oregano, thyme, herbs of Provence" and smashed black pepper…
Onions
1 or 2 tomato (for the colour and will provide a less dense quiche… if you want to emphasize the colour then some green vegetable such as brocoli can be slightly cooked)


Pascal André
Herb and Tomato Quiche
dough
1 egg
250 g of flour
125 g of cold butter
A pinch of salt

Knead all the ingredients into a dough and let rest in the fridge for 15 min. Then put into your tart tin making the sides high so that no juice gets out. Prick with fork.

filling
1 onion, finely chopped
2 garlic cloves, finely chopped

Fry in a little olive oil on low heat. Let cool and mix with:

4 eggs
2-3 tblsp of cream cheese/cream/…
50 ml milk
salt, pepper, nutmeg
a bunch of your favourite herbs (fresh and choppped), such as thyme, oregano, basil, parsley, chives,…

Pour the filling on the dough and add

3-4 tomatoes, sliced thinly
pine nuts

Bake for 40 minutes at 160C, then add

grated cheese (parmesan/Emmentaler/…)**

and bake for another 10 minutes or until the cheese is crispy!
Enjoy